Visa policy TIGHTENED!† Must Know Before You Start††† Updated 2019-7-24
We can STILL do all 50 states at the lowest rate and highest reliability! ††BUT NOTE:†
注意:有些签证可能要求打指模,如工作 /学生, 也可能公务签证等原因。会时间更长, 开支更多 L
1.† Recommend Q-Visiting or L-Tourist visa IF EVER POSSIBLE :simple, easy and quick!
Effective immediately, many other visa types LIKE A). Z-work visa; B). X-Student visa; C). F-business OR any other reason, may be selected for finger prints in person. IF SO selected, we will notify you by email, and may delay more if you missed email in time. Upon notification, you may do:
Option 1: Change to tourist OR visiting visa (We will charge additional $15);
Option 2: Plan to do finger prints in person. (We will charge $25 additional);
Option 3: IF you have to cancel the service, we will refund visa fee only.
<![if !vml]>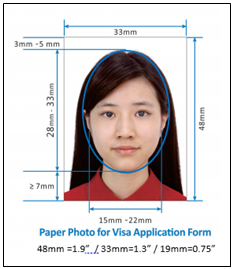 <![endif]>
2. Photo must meet the requirements as shown:†
Need formal, front, color, clear background, photo paper, within 6 months
ŗ View photo samples and standards
ESPECIALLY FACE SIZE, MUST fit frame 15-22 mm W x 28-33 mm H.
Best service provider we know: Costco, $4.99 in 15 minutes
3. Visa Application Form MUST BE TYPED
††† (a few items in Chinese hand writing OK) ††††
†††† IF found manual form, we will re-type, and charge $15 additional.
4.† (NEW) Some visa offices may have special requirements. Such as
San Francisco and DC office: need a copy of Driverís License
†††††††††† San Francisco requires 18- years old or younger, show a copy of birth certificate
†††††††††† DC office requires 2 photos
†††††††††† San Francisco requires (for 18+ year old) show work status or related proofs, one of these:
†††††††††† ††††††††††† Active Student ID
†††††††††††††††††††††† Work Proof like Company ID copy, or company letter about employment;
†††††††† ††††††††††††† Housewife / Retired / Un-employed: bank statements for recent three months
†*** Short of any item above, may cause delay AND $15 additional fee.
†††††† 以上文件短缺,或者不合格,必须补齐方可办理。为此可能延误, 并加收$15服务费。†
Continue when ready †ř